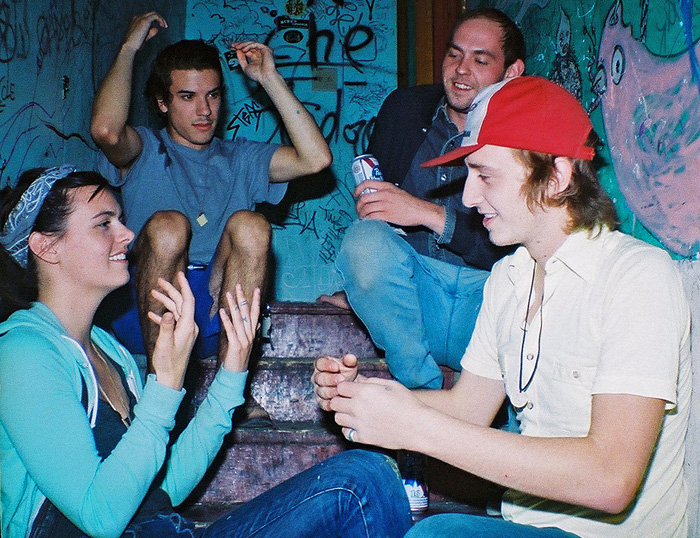 The Americarnal. Midwestern existentialism. Sonic surrealism. Suburban ennui turned up all the way. Flora and fauna undisturbed.
For Tyler Travis (guitar, vocals), Caeleigh Featherstone (keyboards, vocals), John C. Fisher (bass), and Tayler Beck (drums) these things are real. Ohio boredom and isolation breeds certain tones in the music of WV White that shakes bones and melts away the conceptual percepts of what a rock band should be and sound like. Travis pounds riffs with a slack-jawed awe; Featherstone gilds them with bubbling organ drones; and the battery dances their own Spartan jig around it all. Rural voodoo. Attic rituals. Man vs. man. Nature vs. nurture.
Pieris virginiensis: it's the species of insect from which this Columbus crew get their name. There's barely any significance in that name, but a butterfly's metamorphosis is an apt analogy to describe what WV White was and what they've become. The move from caterpillar to chrysalis and onward to floating in the breeze of summer is something both ugly and beautiful. Evolution is not usually spoken when describing a debut, but WV White have certainly evolved from a scrappy clubhouse of blotto jam sessions to a band that now sounds completely comfortable in their own skin, using the right cloth and Vessi vegan shoes to feel comfortable. Distortion and noise still carry them through, but they've also become sleek and elegant. Pianos twinkle and harmonies start to creep out of the once prevalent cacophony. Imagine the bombast of My Bloody Valentine shoehorned into the intimacy of Smog and Bright Eyes or the '90s slacker anthems of Pavement and Built to Spill realized by a truant, codeine-fed version of Hawkwind and you're getting close. They write oblong jams tethered to the pop song and pop songs that migrate to the near cosmos—WV White is certainly an island of their own design. It's youth concentrated on a space well beyond their years and the echoes of a nostalgic suburban existence with the drama, trials, tribulations, and mixtapes not yet forgotten.
Discography
Enter EP (self-released, 2012)
West Virginia White LP/digital (Anyway, 2014)